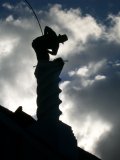 In 1990 A family friend, Jery Baily, made the suggestion that I should clean chimneys. Jerry was the owner of The Fire Place Studio and was so busy he said he didn't have time to do the cleaning. After going on a few jobs with his team, and leaning a few tricks of the trade, I cleaned a few friends and family's chimneys, placed an advertisement in a local paper, and the work started to roll in. At the time I had a little garden service, and to this day I prefer cleaning a chimney to working in the garden. I have mostly been a one man team and still do the work myself.
After 20 years of cleaning and solving problems I have gained much experience and still find myself learning.
Through the years I haven't found any hidden treasure, though I have removed a good few animals who have manged to fall down the chimney flue. I have had to remove the damper from the fire place in order to free birds, squirrels, cats and geese. Once I got bit by a snake well cleaning out the soot from the ledge.
I've also had a lot of experience removing birds nests causing blocked chimneys.
I solve most of the down draft problems by installing either a turbo cowl, or a rotating cowl.

These are designe to deflect the wind, preventing the cold air from blowing down the chimney causing your fire place to smoke.
Most of the time, to avoid making a mess, I seal off the fire place and clean from the top down

.
When this is not possable, I can clean the chimney from the bottom up, I just prefer to clean from the top down to avoid making a mess.
My busy season is in winter, usually when one has a problem caused from lack of maintanance. The chimney should be cleaned once a year. It is cheaper to have your chimney serviced out of season, the summer.
I am a single dad of 2 kids under3 so I need to make arrangements should you require my services after or before working hours.
I am not Cape Towns orriganal chimney sweep, as I advertised many years ago. I have since met a family run chimney business with double my time in the business. I have also heard of others that existed way before my time, after all, plumbers, chimney sweeps and prostitutes are some of the oldest trades around.
I pride myself on being punctual, pleasant, reliable and efficient.
Although I am not always sparkly clean, you will be quite releived that the chimney cleaning service I provide, is painless.
.